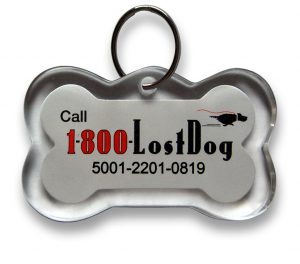 Our Standard Tag – Acrylic Medium Bone
Affordable Pet Protection – for as little as $19.95
1-800-LostDog is National Pet Identification and Recovery Service.
Registering now prepares you and your dog for the best opportunity
for a fast and safe recovery if your dog ever becomes lost.
Membership Plans
One Year Membership – $19.95
Two Year Membership – $29.95
Three Year Membership – $39.95
Lifetime (of pet) Membership – $99.95
( Lifetime – Holiday Special $69.95 )
Multiple Pet Membership Discounts are offered.
Discounts applied at checkout.
One Year Membership – $19.95
Includes…
One – Standard Tag – Acrylic Medium Bone
One Year of 24/7 Pet Protection
Free Replacement Tags – Standard Tag ( if tag is lost or damaged )
Two Year Membership – $29.95
Includes…
One – Standard Tag – Acrylic Medium Bone
Two Years of 24/7 Pet Protection
Free Replacement Tags – Standard Tag ( if tag is lost or damaged )
Three Year Membership – $39.95
Includes…
One – Standard Tag – Acrylic Medium Bone
Three Years of 24/7 Pet Protection
Free Replacement Tags – Standard Tag ( if tag is lost or damaged )
Lifetime (of pet) Membership $99.95
( Lifetime – Holiday Special $69.95 )
Includes…
One – Standard Tag – Acrylic Medium Bone
Lifetime (of pet) 24/7 Pet Protection
Free Replacement Tags – Standard Tag ( if tag is lost or damaged )